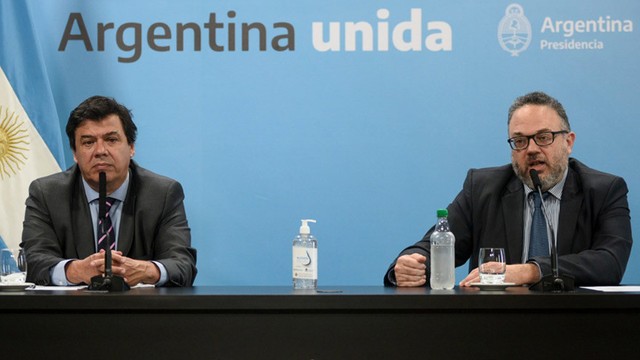 The ministers of Labor, Claudio Moroni, and of Productive Development, Matías Kulfas, presented the information to leaders of the CGT and the UIA
The Ministers of Labor and Productive Development, Claudio Moroni and Matías Kulfas, estimated that 80% of workers in the private sector will receive the salary for April with the help of the State.
The data emerged in a teleconference that the officials had with leaders of the CGT and the UIA (Unión Industrial Argentina).
According to reports, doubts and complaints were raised from the sector regarding the provision of Decree 376. It establishes a salary assistance for companies and a reduction in employer contributions, among other measures.
At the meeting there was a discussion between the union leaders and the 1st Vice President of the UIA, Daniel Funes de Rioja. It consists of the proposal by the CGT for the State to pay 50% of the salaries of people who are currently without tasks, the other half could be paid by companies to receive their full salary.
The industrial manager assured that it would not be fair for those who do not work to receive the same as someone who is fulfilling his responsibilities. Thus, they agreed to establish a floor of salary percentage in the second part of the meeting that will take place next Thursday,
During the discussion there was also a conflict when talking about the limitations of the companies after "two years of recession". Funes de Rioja himself was the one who argued the issue but a union member reminded him that "those same two years of recession also affected the workers."
The financing of the social works that the CGT has been demanding was also a topic of conversation.
Likewise, a consensus was reached between the parties to "review the slight fines of some companies in REPSAL" (a registry of companies sanctioned for violations of labor laws) so that they can "access the incentive programs" proposed by the national government.
In conclusion, it was agreed to maintain this type of virtual meetings on a regular basis "to establish clear and broad dialogues between the main actors," it was indicated.
The two general secretaries of the CGT, Héctor Daer and Carlos Acuña, as well as Gerardo Martínez, Andrés Rodríguez, José Luis Lingeri, Víctor Santamaría and Rodolfo Daer, participated in the videoconference, while the entrepreneurs Miguel Acevedo, Daniel Funes de Rioja and Diego Coatz.
Find out the latest on digital economy, startups, fintech, corporate innovation and blockchain. CLICK HERE
Corresponsal de Argentina, Encargado de seleccionar las noticias más relevantes de su interés a nuestro sitio web NewsPer.com